Wencinja's Kodiak Kwest

CD RN CGC WPD WTD WLD WWPD WWPD

  WWPDX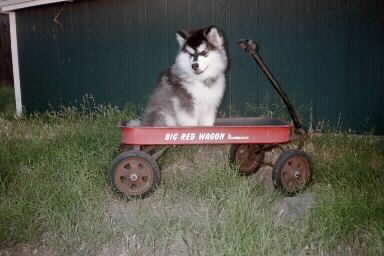 March 2, 2001 - February 24, 2011

There is so much to say about my very special fluffy boy, and no way to really express it all.

Kwest was the puppy that smiled at me from his picture at 1 day of age and was destined to be the Malamute of my dreams and my heart dog. Though I was looking for a show dog, that little fluffy pup just "spoke" to me. the decision to bring him home is one I've never regretted and the years we spent together were filled with and enourmous amount of fun and friendship.

Even as a youngster, Kwest proved his potential in harness and as an obedience dog. At 7 months old he earned his CGC. At 20 months he picked up his first leg towards is CD by going High in Trial at the AMCA Regional Specialty, and he earned his title with scores in the 190's and picked up 4 specialty high in trials while he was at it. Just past his second birthday he completed the requirements for his Working Team Dog title, and ran lead the whole way on the last run for the first leg towards his Working Lead Dog title.  By age 4 he'd earned his lead dog title as well as his weight pull title, his pack dog title, and all the legs towards his weight pull excellent title.  Kwest was 2/3 of his way through his Rally Advanced title and was trained through all the Utility excercises in Obedience when his diminishing eyesight due to Posterior Lenticonus made it unfair to ask him to continue jumping in competition. Though he did eventually go blind he never let it bother him in the slightest and continued living life to the fullest, continuing to run hundreds of miles in harness, backpack, and take part in breed education booths which were by far his favorite activity (he was always convinced that all those people came just to see him).

Kwest threw himself heart and soul into everything he did...and always had the time of his life while he was at it.  He just had the happiest outlook on life. Throughout all the years Kwest made friends everywhere he went and touched so many peoples lives

for truely a once in a lifetime dog.